TIMELESS LOOK, MODERN POWER
With a distinguished design background from Honda, we bring a unique perspective to the design that sets us apart from the competition. Fusing retro style with modern reliability, offering a timeless look and powerful features for a superior riding experience. Join us on the journey and experience the RAEV difference for yourself.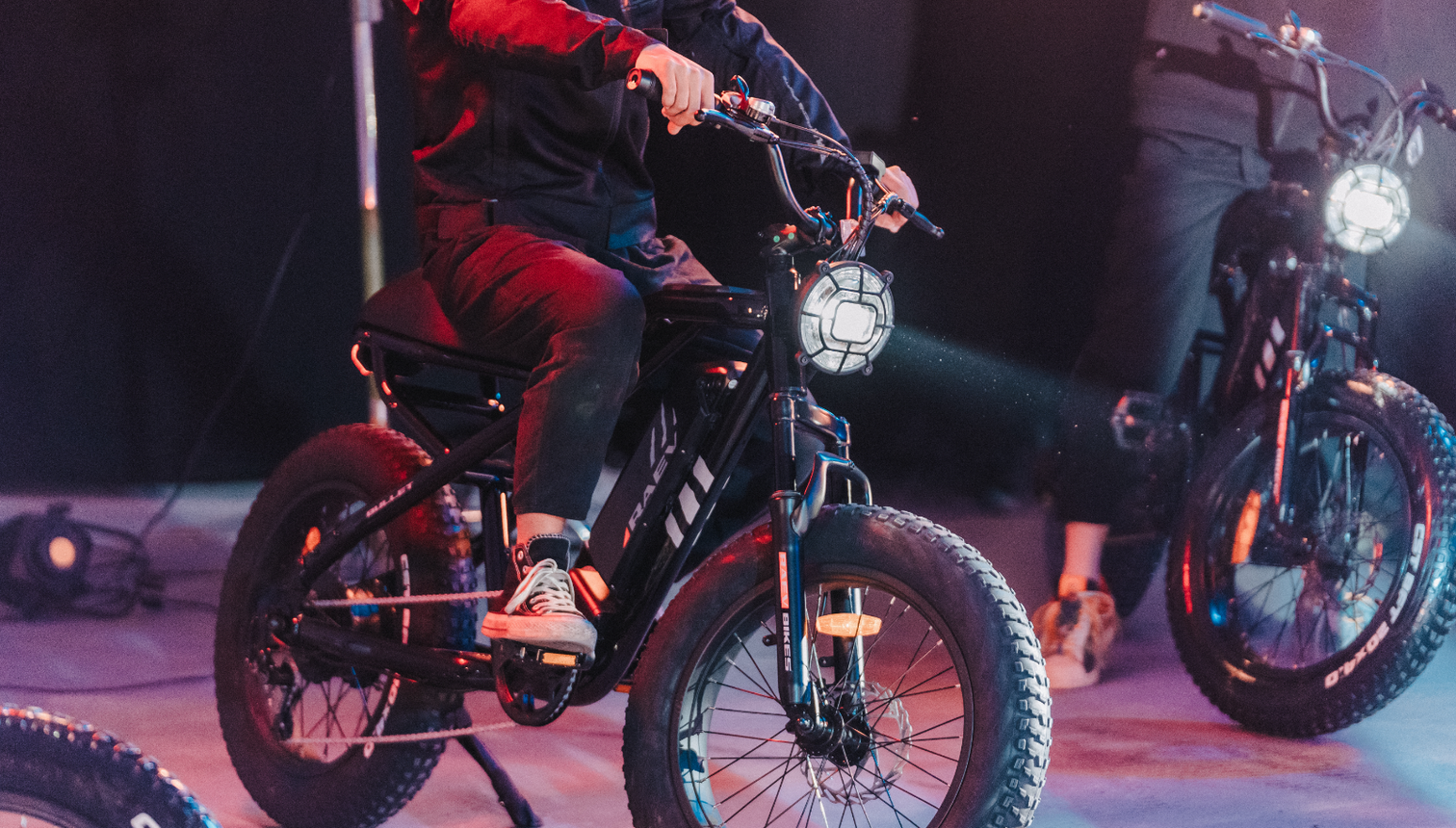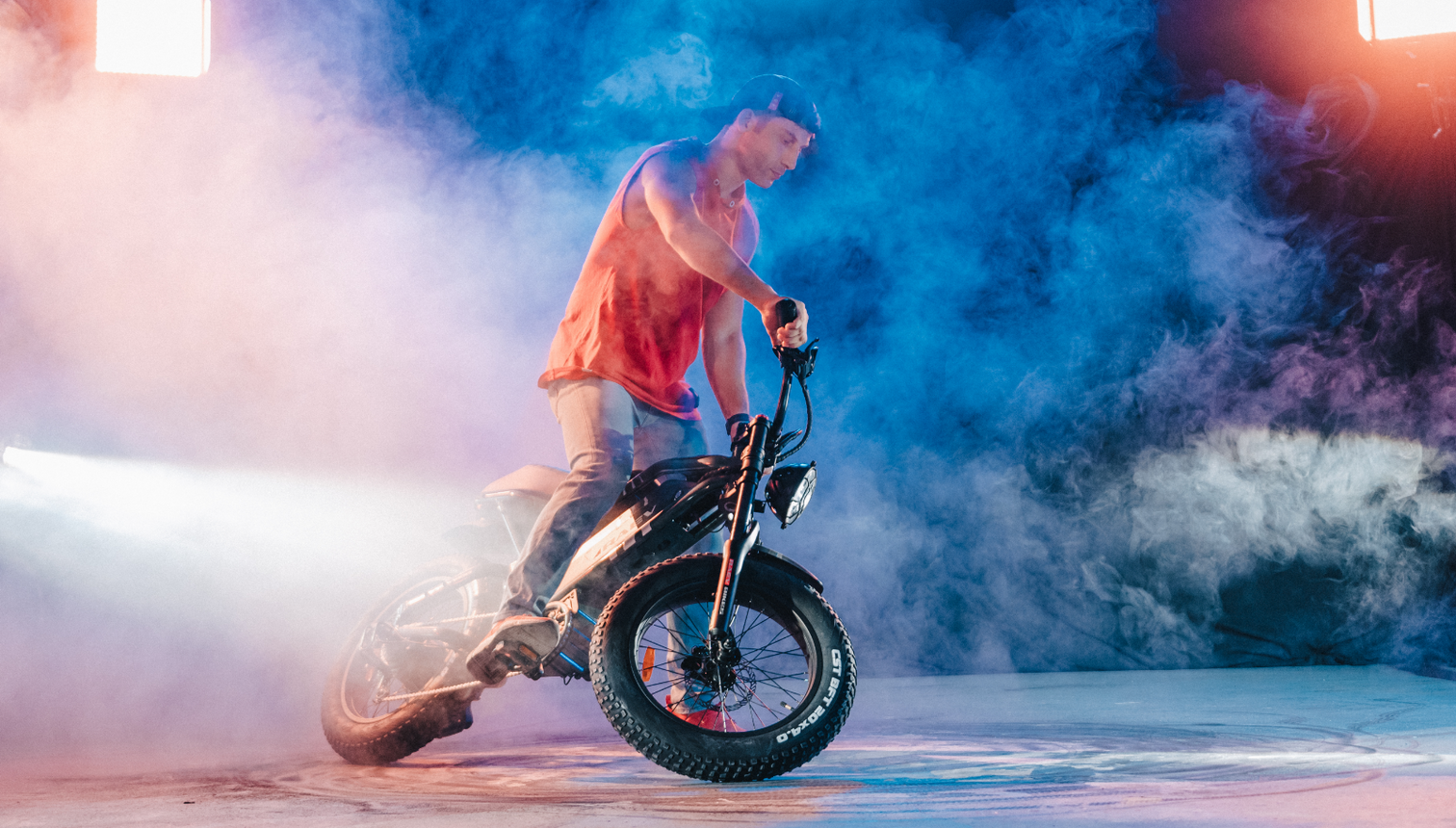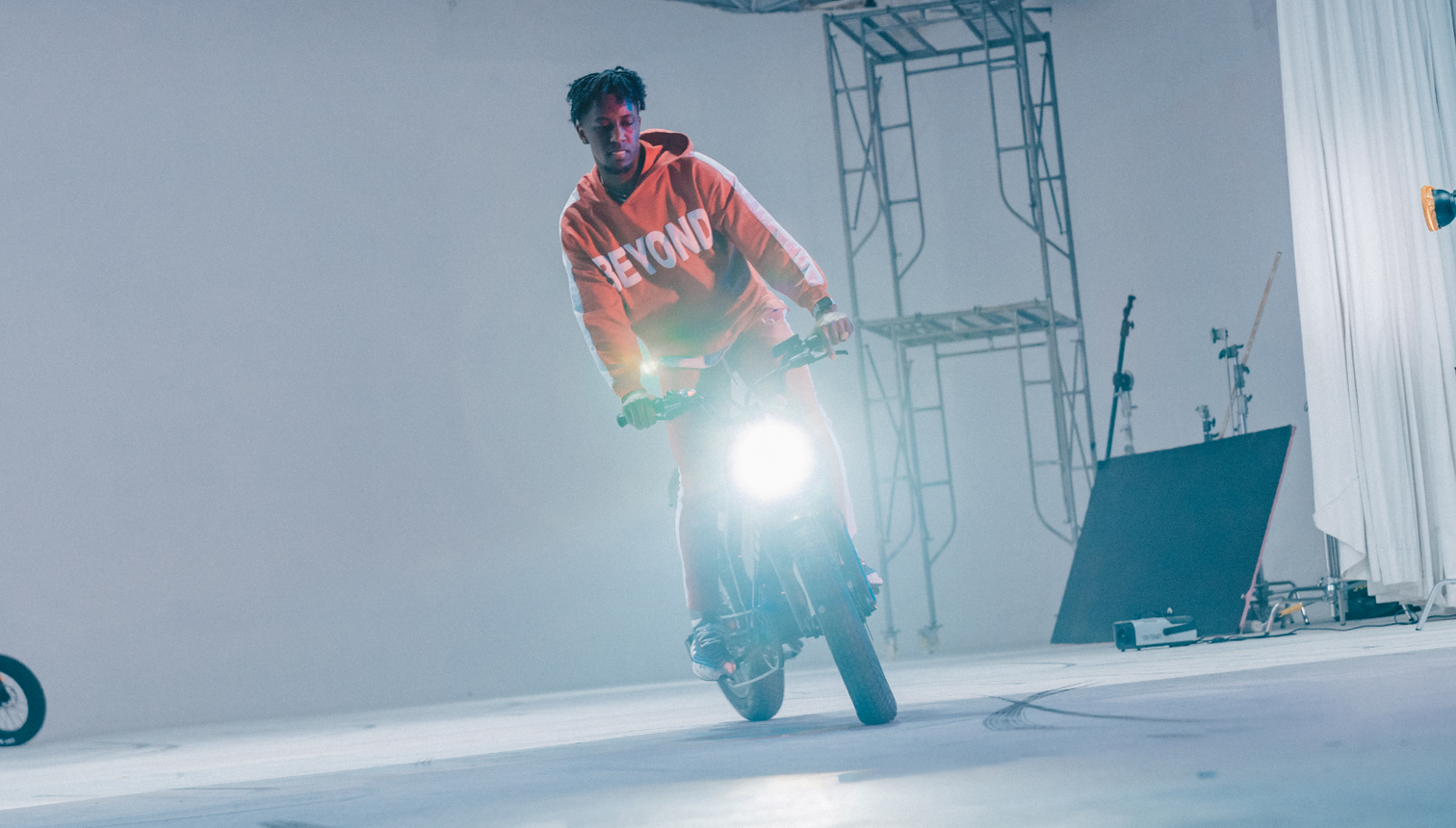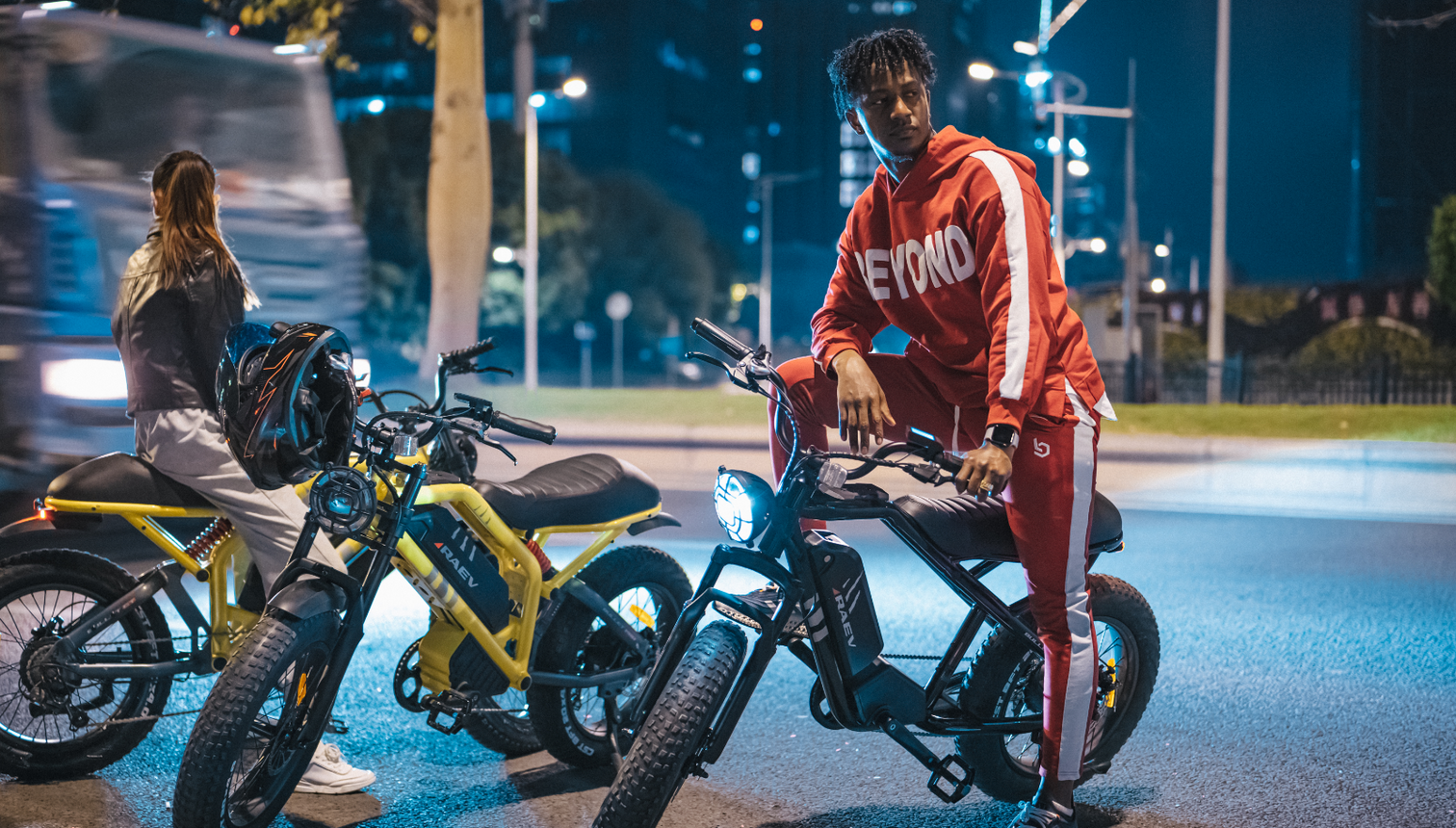 Mechanical Disc Brakes
Efficient stopping power for your urban commute and casual rides, the Bullet's mechanical-disc brakes provide reliable braking when you need it.
"Just head out and go for a super easy super chill cruise and it is a ton of fun, like being a kid again. "
Commute with Confidence
The Bullet features a removable 48V 13Ah battery, powered by high-quality DMEGC 18650 cells. With a range of up to 50 miles, you'll never worry about running out of power during your daily commute or weekend adventures.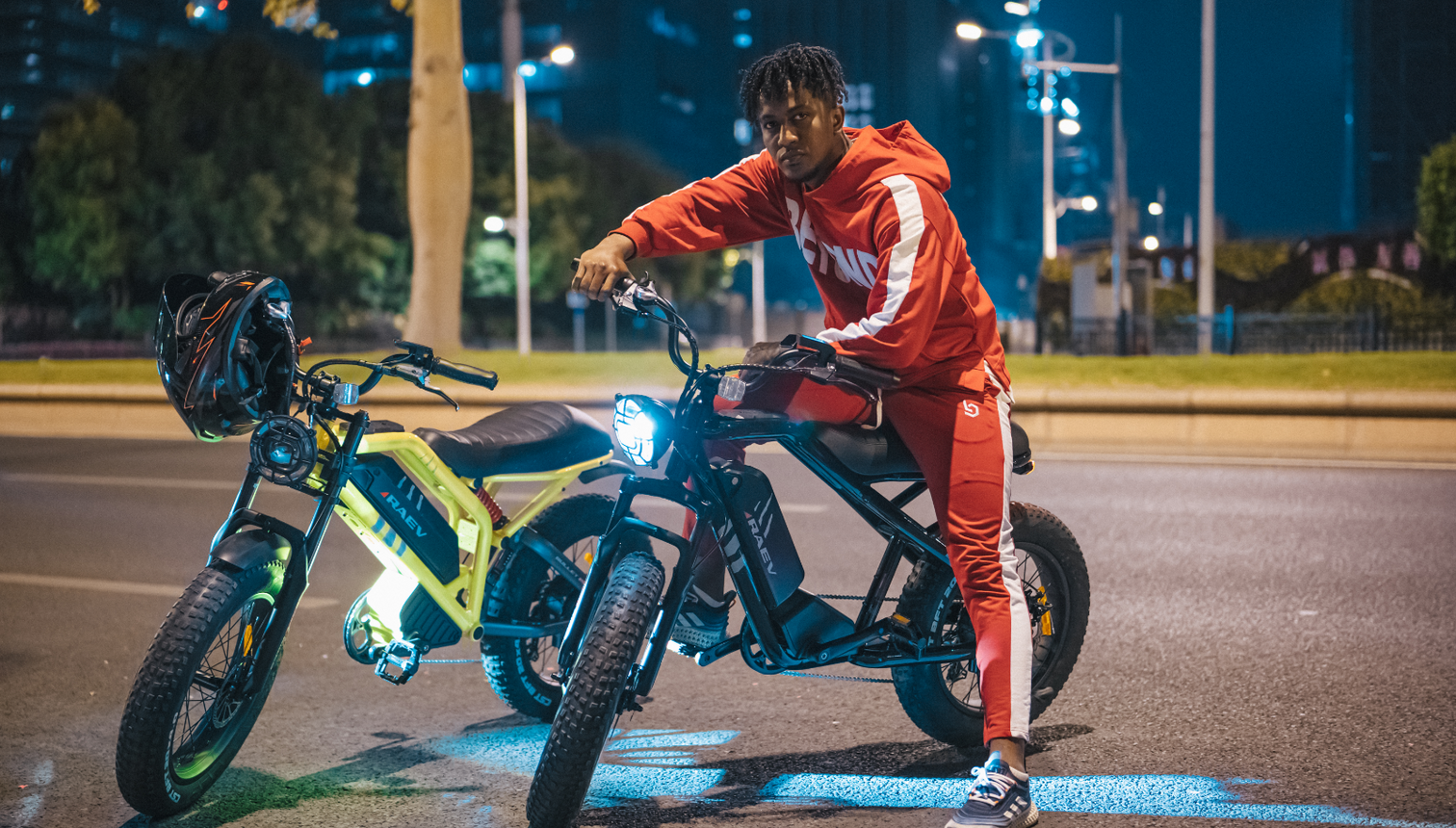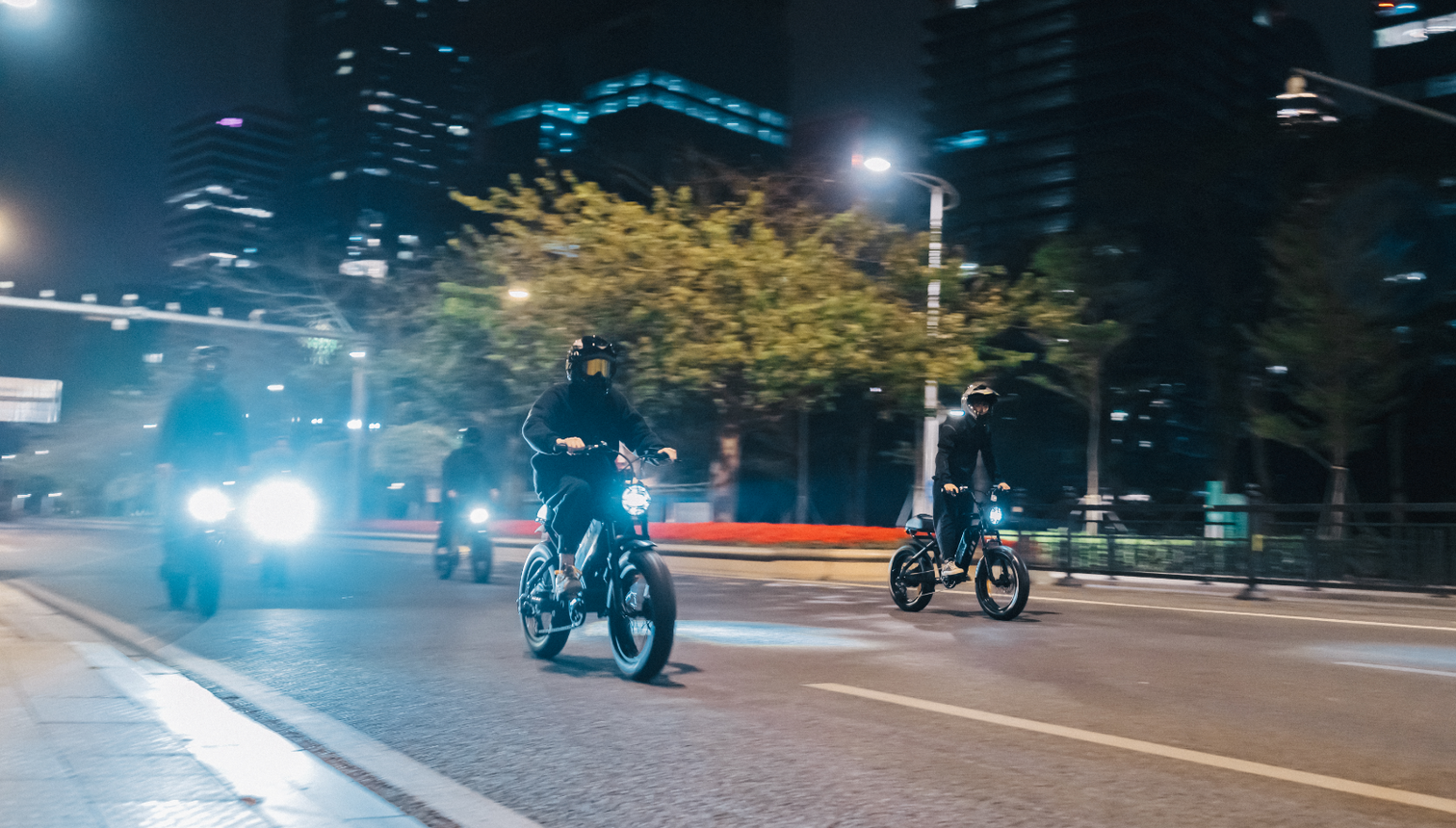 Efficient Power for Adventures
The Bullet's 500W motor (peak 750W) with 55Nm of torque ensures a top speed of 25mph. This efficient power is perfect for zipping through city streets and keeping up with traffic. The bike comes pre-programmed as a Class 2 e-bike, but can be unlocked to reach its full potential.
Choose Your Style: Classic Meets Modern
Available in black, green, yellow, and red, pick the color that suits your personality and make a statement as you cruise through the streets. The Bullet combines classic design elements with modern functionality to create a truly unique riding experience.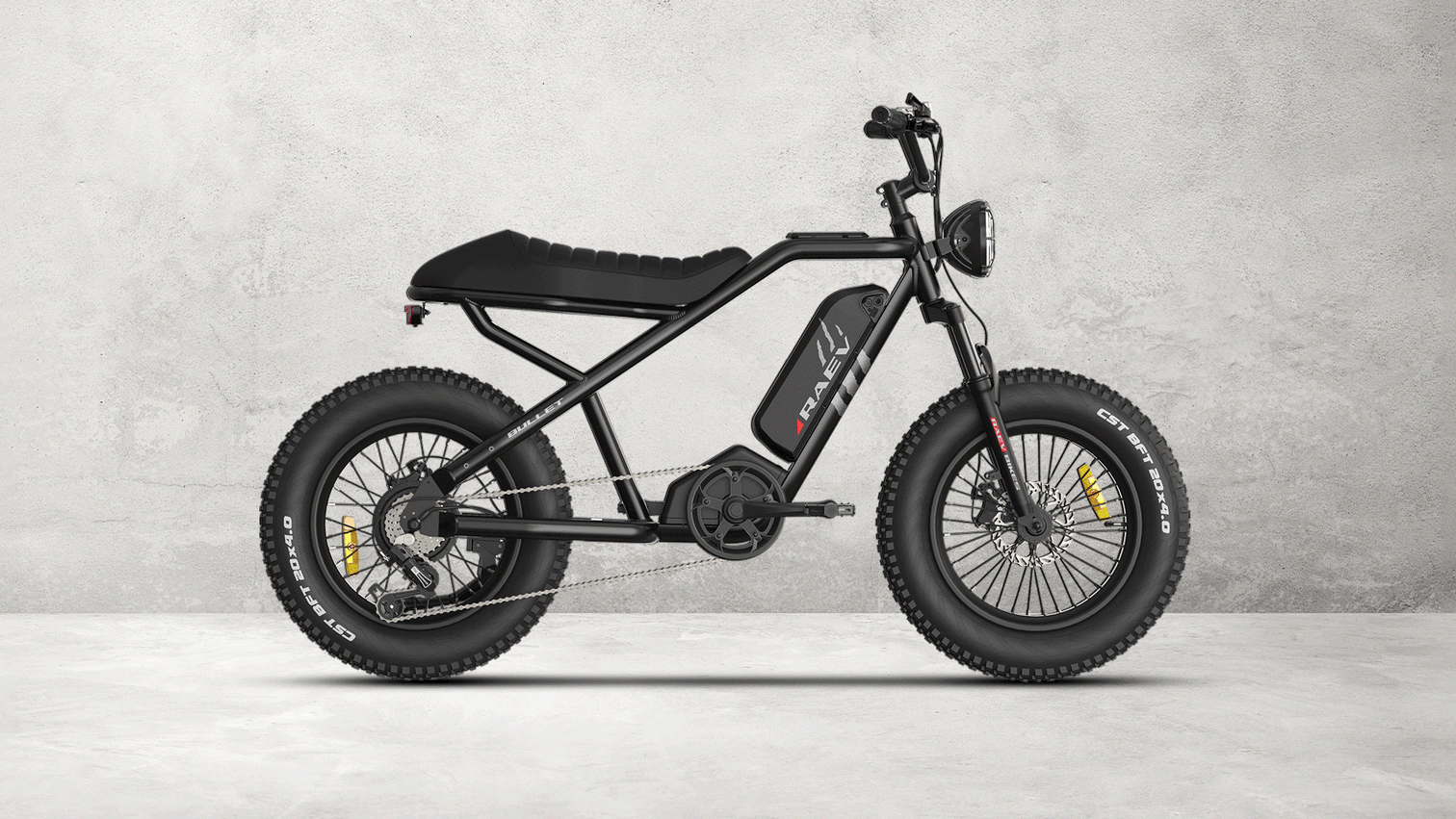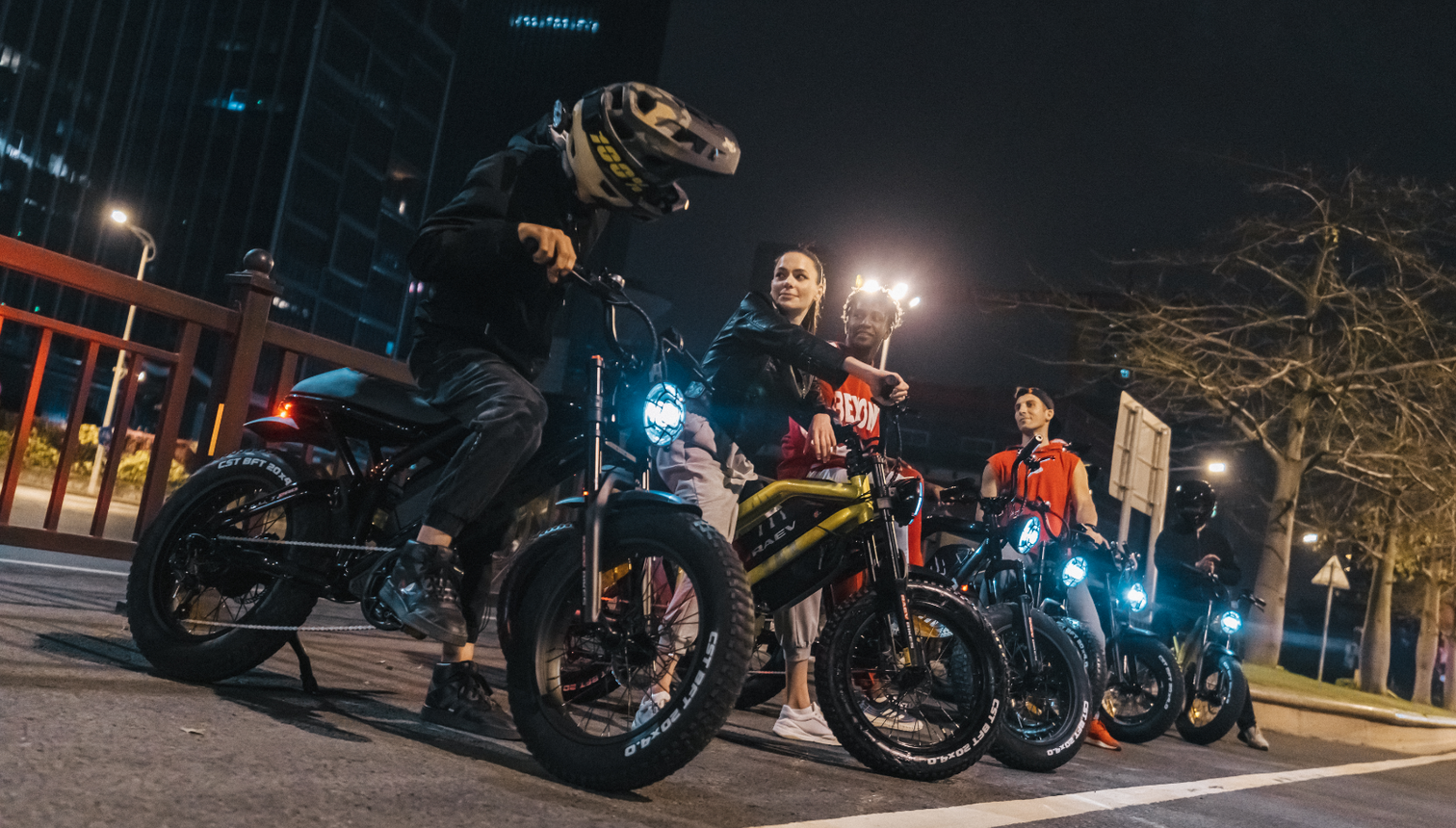 Comfortable Ride for the Explorer
The Bullet's suspension provides a comfortable and smooth ride on paved roads, making it an ideal choice for commuting and cruising. Though not suited for extreme off-roading, it is more than enough for daily city rides.
PERFORMANCE
Top Speed:
Class 2/3, 25 Mph
Range:
30+ miles in Class-2 throttle-only mode; 50+ miles in Class-1 PAS mode
Motor:
48V 500W (Peak 960W) Brushless Rear Hub Motor
Front Suspension:
Coil Spring Suspension, 40mm Travel w/ Lockout
Brakes:
Mechanical Disc Brakes w/ Electric Cut-Off Sensor
Tires:
CST BFT 20" * 4.0" Street Knobby Fat Tire
Throttle:
Grip Twist Throttle
ELECTRONICS
Charging Time:
13Ah Battery: 6.5 Hours
Display:
Easy Read LCD Display
Controller:
48V 20A, 6 Enhanced MOSFET Sine Wave
Front Light:
Moto Style Round Headlight, 120 LUX
Rear Light:
Rear Reflector
COMPONENTS
Brake Pads:
YK-34 Ceramic Brake Pads
Brake Rotors:
160mm Stainless
Pedal:
9/16" Alloy, composite platform pedals with reflectors
Crankset:
160mm Crank Length, 42T Chainring
Rear Derailleur:
Shimano 7-Speed
Rim:
Double Wall Aluminum 36H Front & Rear
Spokes:
Black Stainless 13-Gauge Front/ 12-Gauge Rear
Stem:
Aluminum D25.4 * H43mm
Handlebars:
Aluminum 640mm Wide, 25.4mm Rise
Grips:
Durable Ergonomic Grips
Hubs:
36H Disc Thru-axle Front, Nutted Rear
GEOMETRY
Suitable Height:
Up to 5'11"
Bike Weight:
75lbs (with Battery)
Battery Weight:
13Ah Battery: 8.4lbs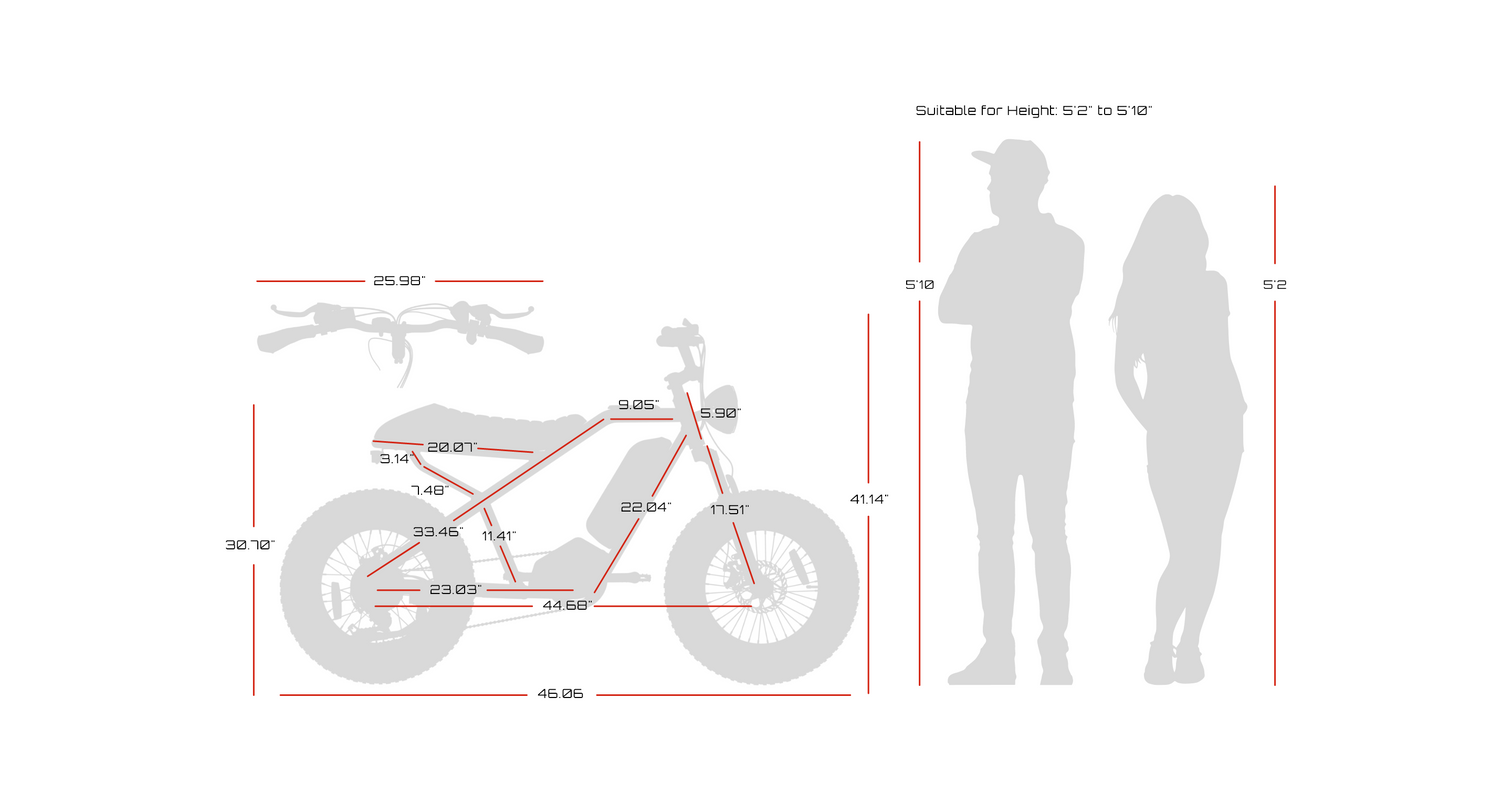 COMPARE
BULLET
BULLET GT
BULLET GTX
asd
BULLET
BULLET GT
BULLET GTX
Motor:
48V 500W (Nominal)
48V 750W (Nominal)
52V 7500W (Nominal)
Throttle:
Grip Twist Throttle
Thumb Twist Throttle
Thumb Twist Throttle
Battery:
48V13Ah
48V28Ah (Samsung 21700 50E + 40T Cells)
52V28Ah (Samsung 21700 50E + 40T Cells)
Range:
30-50Miles
50-100Miles
50-100Miles
Front Suspension:
Coil Spring Suspension, 40mm Travel w/ Lockout
Hydraulic Suspension, 60mm Travel w/ Lockout & Preload Adjustment
Hydraulic Suspension, 60mm Travel w/ Lockout& Adjustment
Rear Suspension:
-
Coil Spring Suspension, 40mm Travel
FASTACE Dual Air Chamber Air Shock
Brakes:
Mechanical Disc Brakes, 160mm Rotors
Hydraulic Disc Brakes, 160mm Rotors
4-Piston Hydraulic Disc Brakes, 180mm Rotors
Charger:
48V2A, 6.5 Hour Charging
48V3A Fast Charger, 7-9.5 Hour Charging
52V3A Fast Charger, 7-9.5 Hour Charging
RAEV POWER &
TOP SPEED CHART
WHAT ONLINE REVIEWERS SAY
BULLET
MILTONATOR
Model: Bullet
"Just head out and go for a super easy super chill cruise and it is a ton of fun, like being a kid again. The one thing that can make this bike a whole lot more fun is a second one."
Volted Adventures
Model: Bullet
"I really like the way this bike looks, I like the way it rides, if you are looking for something that's street legal and you can enjoy almost anywhere, then this is the best affordable bike."
SESSIONS73
Model: Bullet
"Whether you're zipping through traffic, cruising uphill or enjoying a leisurely ride through the park, the RAEV Bullet delivers an exceptional experience."
TDR Drones Ebikes and Scooters
Model: Bullet
"The saddle is way more comfortable than I thought it was going to be. In fact, this is one of the most comfortable bikes I have now."
Fedex ruined my package but this company went above and beyond to fix it for me! 5/5
Fun and great looking bike.
I have had the Raev Bullet now about a month. I have really enjoyed it. It fits me perfectly, I'm very comfortable riding g it. And it has pretty good distance and speed. It is a heavy bike and that's because it's well built, and it's steel frame. The seat is very comfortable too for longer rides.
I have two complaints though. Firstly, I thought the bike came with a battery powered taillight. But mine came with a simple reflector. For the price of the bike I feel it could have come with a lighted taillight that came on when the headlight came on. It would go a long way for safety while riding after dark. But mine coming with a simple reflector was a disappointment, eventhe light working with AAA batteries would've been an improvement. That's what I bought.
Secondly, my bike showed up with many rusty bolts on it! I've switched most of them out with stainless steel bolts and nuts mainly for aesthetics reasons. Come on guys, this is a $1600 (Canadian money) bike! It shouldn't have rusty parts on it! It's one of the cheaper bikes offered on the market and that's partly why I purchased it. I wanted an affordable well-built ebike to get into ebiking with and the Raev Bullit definitely fit the bill, but I expect it to be rust free!
Otherwise, I'm overall very happy with this bike and will enjoy riding it and in a year or so will likely buy a higher end bike and will definitely check out the raev Bullet gt or other models they offer.
Thank you.
Donald
First Electric Bike
Cannot say enough good things about this ebike, so much fun, brings me back to the days when I was young 12 Yr Old riding a CR50 for two summers...so so so much fun...can't wait to put the clicks on it...cheers!!!
Great bike at a great price!
I had been debating between different brands for weeks and could not be happier with my RAEV bike. I received my bullet faster than expected and in great condition. Setup was a breeze and all tools were included to get out on the road quickly. The look and feel of the Bullet is top notch and I've already got plans to get one for my wife soon. I was going to use it as a commuter bike to and from work, but I find myself taking joy rides every chance I get. Thanks for the great service RAEV, look forward to seeing what accessories are available in the coming weeks!!